Four Card Poker
In Four Card Poker, you receive five cards to make your best four-card hand. The dealer receives six cards to make a four-card poker hand. You decide when to make the play:
Play vs. dealer: play Aces Up, or play both.
Play vs. dealer: bet on the required ante spot to play against the dealer's hand.
Best four-card hand wins. You win the ties.
If you bet on the ante wager and want to stay in the game after viewing your cards, you must make a play wager at least equal to the ante but may be up to three times the ante. It's your four-card poker hand against the dealer's four-card poker hand and the best hand wins! The ante and play bets pay even money.
Play Aces Up: Bet on the Aces Up spot and win when you're dealt a pair of Aces or better. The Aces Up bonus is always paid-even if the dealer has a better hand.
Automatic Bonuses: The top three hands in the game – four of a kind, straight flush, and three of a kind – receive an Automatic Bonus payout on ante bet. Automatic Bonuses are paid even if the dealer has better four-card hand.
Basic Strategy:
As the strategy indicates, you should fold with anything less than a pair of 3s. This means you may fold four, five, even six hands in a row. Wait for a good hand before making the play bet. You have the opportunity to max out your play bet. The dealer's average hand is a pair of 9s, so when ever you have 10s or better, you're favoured to win.
So play for fun: if you lose, consider it the cost of entertainment. For more information on how to play table games, ask a Table Game Dealer, or visit the GameSense Info Centre.
POKER RANKINGS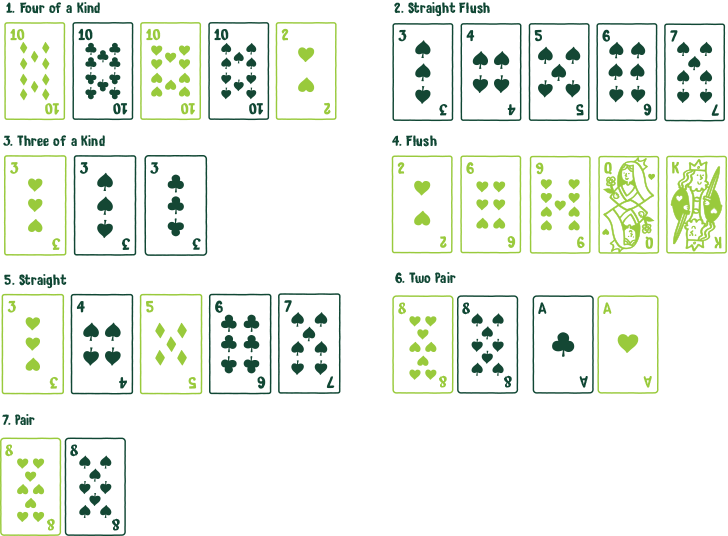 CONTACT US
Contact GameSense today with any questions or concerns.
INTERACTIVE GAMES
Interactive games that will help you up your GameSense.